Castle Hotels of France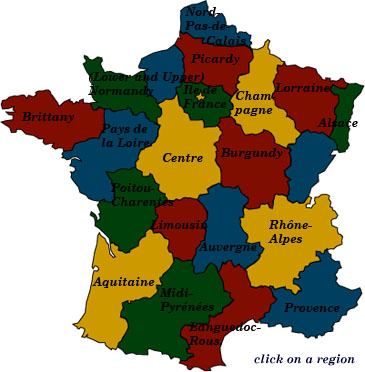 Jump to a list of all French castle hotels here, or click on a region.
Haven't decided on a hotel yet? You can look at other available hotels in France with Booking.com.
No visit to France is complete without spending a night in a wonderful castle hotel. Dependng on the region you're in, the castle will reflect its architecture, traditions, and cuisine.
The original purposes of castles in France varied widely. S0me were architectural expressions of the noble families who built them. Some were fortresses built in defense against the British, Saracens, or Germans. One was built to protect pilgrims, another was a honeymoon retreat, and another was a pleasure palace for a famous perfumer.
For hundreds of years the French monarchy moved at whim from castle to castle, (or château to château, as you will)—hunting, attending tournaments, and dancing at lavish balls. They left a tradition of unsurpassed beauty and elegance. Of course, it is impossible to re-create their world for the modern traveler, but you can catch a glimpse of it by driving in your contemporary carriage, moving as the monarchy did through pastoral countryside from castle hotel to castle hotel. You'll be greeted with warmth and kindness and experience some of the world's finest cuisine and wine.
Some great reasons to visit
Every region of France is fantastique!

Alsace and Lorraine With roots dating back 700 years to the Holy Roman Empire, the Alsace region charms with half-timbered houses bursting with brilliant flowers on their window sills, ancient churches, and hillside castles. In Lorraine, fortresses and abbeys remind us of the region's ancient past, while the memorials of Verdun pay homage to the sacrifices made during World War I.

Aquitaine and Midi-Pyrénées The stunning beauty of the Dordogne and the Pyrenees mountains, the mighty fortresses with their turbulent past, and the sublime wines of Bordeaux are all perfect reasons to spend time in two of France's most seductive regions.

Brittany With its Celtic heritage, wealth of mysterious megalithic monuments, and breathtaking 700 miles of coastline Brittany offer a mystique and wildness quite unlike the rest of France.

Burgundy This region has it all: superb wine and gastronomy, medieval castles and abbeys, and a pastoral landscape that make for an idyllic French vacation.

Centre and Pays de la Loire The Loire River flows through a lush valley filled with history and the magnificence of the world's most glorious châteaux.

Champagne Bearing the name of that eponymous golden elixir, the Champagne region has cultivated grapes for some 2000 years. Brilliant carpets of vineyards cover much of this agricultural region, worthy of several days of exploration.

Île de France Explore the heart of this great country; its wheatfields, forests, and garden an inspiration to its painters; its monumental châteaux a testament to the power of kings and emperors, and the great city of Paris—as timeless as love and light.

Languedoc-Roussillon Roman ruins, craggy castles, and endless vineyards mark a region full of ancient cultures and a youthful spirit.

Limousin and Auvergne Huge volcanoes, ruins of castles, Romanesque churches, and rich pastures highlight the great Massif Central, which crosses these two fascinating regions.

Nord-Pas-de-Calais With lots of historical attractions, culture and art, don't be in a hurry to pass through.


Normandy Step in the footsteps of William the Conqueror, stand on the sand of Omaha Beach and imagine the largest amphibious invasion in history, and experience high tide magically encircle the iconic Mont St-Michel.

Picardy Nowhere will you find such contrast in the endeavors of man when you visit Picardy. From the sublime, soaring Gothic cathedrals to the cemeteries that give testament to the insanity of war at the Valley of the Somme, Picardy has much to offer.

Poitou-Charentes Part of ancient Aquitaine, the warfare of the Hundred Years War left a legacy of castle ruins, now lying in peaceful and unspoiled countryside.

Provence-Alpes and Côte d'Azur Sun-drenched and smiling, brilliant fields of flowers and orchards frame small villages and Roman ruins. Strung like brilliant jewels along the Mediterranean, the charming towns of the Côte d'Azur have attracted seekers of a charmed life for generations.

Rhône-Alpes Pretty wine villages offering robust Beaujolais wines and the culinary capital of Lyon are just the beginning. Towering to the east, the magnificent Alps entice with their world-class resorts.